Costa Rica is well known for its pristine beaches, tropical weather, cloud forests and tasty coffee but little do people know about Costarican craft chocolate. Chocolate tours in Costa Rica are now here for you!
Costa Rica is also the land of great chocolate. Near the Best Western Tamarindo Vista Villas there are two  companies that make their own craft chocolate: Reina's Chocolate and The Beach Chocolate Factory.
You can visit them and we can arrange seminars and taste tours for you and your family.
BEACH CHOCOLATE
Henrik Bodholdt, owner of the Beach Chocolate, affirms: "Ever since I stumbled upon the raw cacao fruit in the rainforest of Talamanca back in 2009 I have been fascinated with chocolate. I started making chocolate and "infotaining" visitors to Costa Rica in 2010, and the pure joy of sharing the wonders of cacao with our guests is a driving force for me."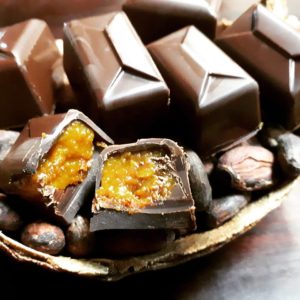 Their pure dark chocolates made with just two ingredients: organic cacao and organic cane sugar. Their claim is that they are in charge of the entire process from the seed of the tree to the final product. They grow their cacao on their "Blue Valley" property in northern Costa Rica. The Beach Chocolate store is located in Brasilito, Guanacaste.
REINA'S CHOCOLATE
On the other hand, Reina´s Chocolate roast their own cacao from 3 different farms and climates in Costa Rica. They also have only two ingredients for their pure dark chocolates: cacao and brown cane sugar, no chemicals or preservatives. They have a great variety of chocolate that depend on the amount of cacao: 90%, 85 %, 80%, 75%, 70%, 60% andand a variety of milk and white chocolates.
Ron Milewski and his wife Reina Lopez Gatica are the owners of Reina's Chocolate and they have just opened Reina's Chocolate Café in January 2019 (from 9 am to 4pm) and it's a blast. They serve: brownies, bars, cacao tea, hot chocolate, powder, chocolate mochas and coffee.
In their social media, there is a Ryan Cheney quote about chocolate: "it creates loving experiences," saying that, "For a lot of people, when they eat chocolate, they feel warm and they feel something good inside, and that's a simple thing but an important thing".
Reina´s Chocolate is placed in El Llanito, a 15 minute drive from Tamarindo, in a beautiful house with a big garden full of fruit trees.
What people love about the workshop is the totally new experience of making chocolate and learning about the history of chocolate, the cacao tree, and tasting so many different chocolates they have never been exposed to
kaus halya foundation story
!
CREATE YOUR OWN CHOCOLATE
Reina´s Chocolate and Beach Chocolate have tours and tastings where you can create chocolate with your own hands!
Let our receptionist book your chocolate tour in Costa Rica and enjoy!