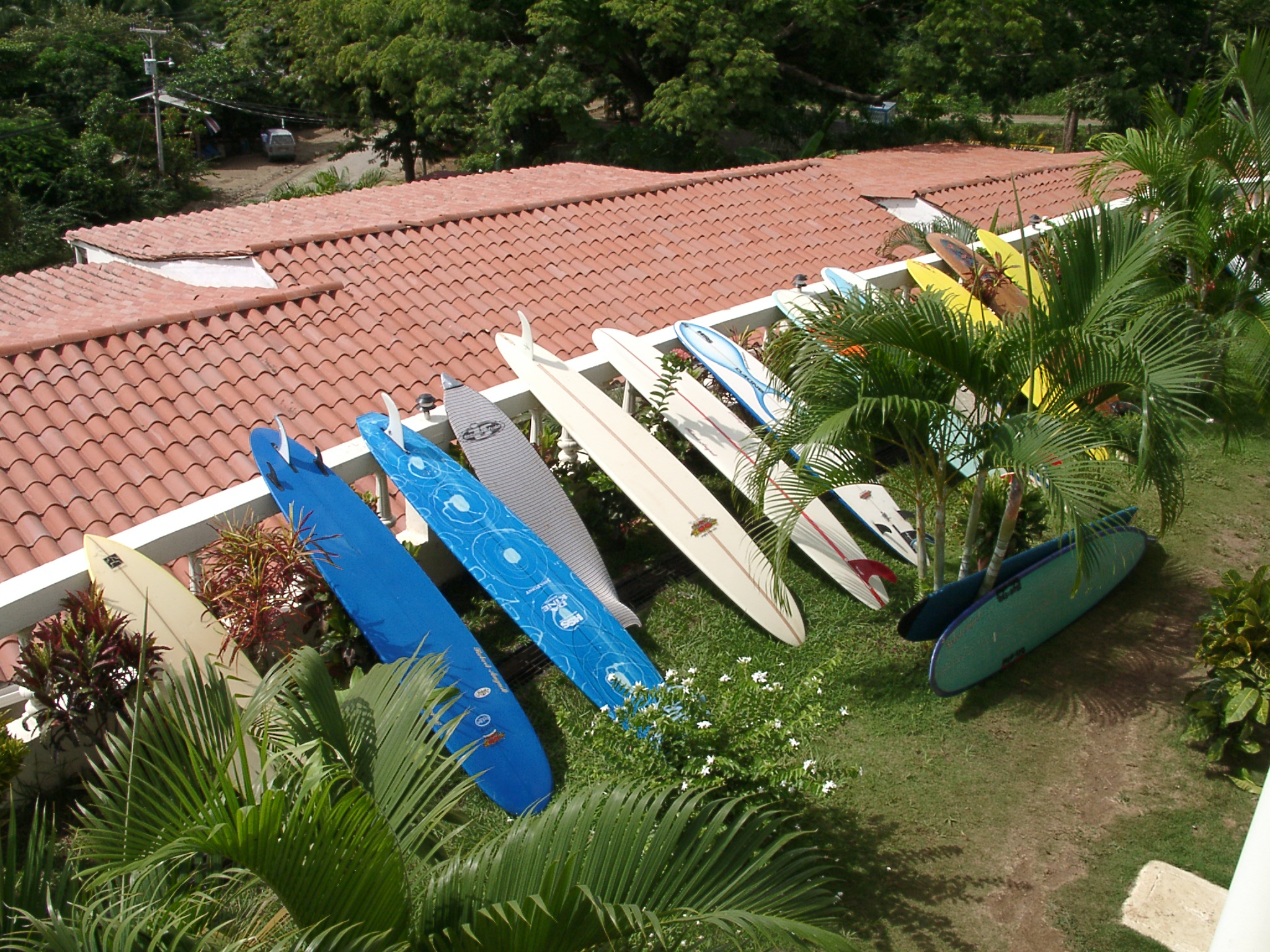 Whether you head for that duck dive or do a hang ten while smiling for that perfect profile shot or simply long to popup on your surfboard for the first-time ever, there something waiting at the Tamarindo Vista Villas Tamarindo Surf School to satiate your thirst for the perfect wave, the perfect cutback or the best fade. Nestled in the hills of Costa Rican charm lies one of the best surfing destination of the world. A "surfing Mecca" to many avid surfers, Tamarindo boasts a widely diversified surfing experience—from beginners to experts—as well as a rejuvenating vacation rolled into one. Right at the hotel, Eric Atkinson of Salty Sols has one of the best Tamarindo Surf Camp and surf schools. You can choose to surf in the morning, do yoga in the afternoon, take a canopy zipline tour and partake in a bustling nightlife, whatever the mind can conceive, this place is sure to give. There is, indeed, something special about the Tamarindo Vista Villas Surf Camp and Surf School right here in one of the most sought after surfing vacation destinations in the world. To get to know about this, here are some of the top reasons why.
Amazing Surf in Tamarindo
Imagine waking up to a glorious sunrise, gentle sea breeze and a panoramic vista of the Pacific Ocean right from the balcony of your Tamarindo Vista Villas room or suite. Check out the surf and make your way down to the water or head out to any one of the nearby breaks. For beginners, Tamarindo is the perfect place to learn to surf, as the enclosed bay which means gentle waves and plenty of whitewater to have your first session with Eric from Salty Sols. In addition, Tamarindo is fortunate to be located close by at least four spectacular surf breaks for the intermediate or advanced surfer to explore: Langosta, Grande, Avellanas and Negra. Our expert at Salty Sols can offer you transportation to any of these. Back at Tamarindo Vista Villas, after a day of adrenalin pumping surfing, catch one of our famous sunsets on your patio, and wait out the moon which reflects off the water. Think about the swell coming the next day, and getting back in the ocean, where you'll rip and snap in one of the most popular sports in the world.
Professional Surf Instructors
What makes Salty Sols and its primary surf instructor Eric Atkinson your best choice for an instructor or guide? "I want people to have an experience, not just a surf lesson, where it's not simply 1,2,3 popup," explains Eric. "I want the experience to be highly awesome and personalized, to impart the stoke of surfing, so my students will continue doing it. I want my clients to feel that they made a friend with Salty Sols Surf School." Lessons begin on the sand, where you will learn surfing theory, water safety and other tips to make your ocean experience fun and additive. Eric himself grew up in landlocked Missouri, so he can definitely relate to first-time surfers, or those that don't get to surf as often as they'd like. He learned his craft in Hawaii, where his roommates—Oceanographers—conveyed a knowledge of the sea that Eric continues to pass onto his students today. His passion for surfing is compounded from his background in baseball, and an inherent knowledge that one day he'd end up being a coach. His own great coaches, both in baseball and surfing, inspired a lot of the tips that his clients learn today. His primary advice: Have fun and relax in the water and put aside all your stress and you'll ride, ride, ride.
Tamarindo Surf Camp Safety
Salty Sols, Eric and its surf instructors guarantee that this Tamarindo surf camp and surf school practices safety at its best. No one is going to send you off and simply yell "paddle" or "pop up." Instructors make sure that you get enough know-how on how to handle yourself and your board while finding an area where the best tides are located. With at most three surfer enthusiasts per instructor, the Tamarindo Vista Villas surfing experience redefines personalized attention. Here are the 6 primary water safety rules that Eric teaches: 1) Never put the board between you and the ocean waves 2) Give everyone space in the water 3) Always cover your head when coming up from underwater 4) Learn the different tides, currents, swells and riptides at different peaks 5) In the beginning, when you surf, make sure there are other people around and 6) Always have fun.
.
Finding us on the Internet
You can find us on Facebook, YouTube, Vimeo, and most major social media sites where we have some very cool content. Just type in "Tamarindo Vista Villas hotel". Watch out for misspellings while doing Google searches, you will never get the best results with a missing letter or a bound together word set. Common misspellings include Cost Rica, Coast Rica, Coasta Rica, tamarind hotel and more. But you will still be able to find us for these terms considering they are in this page.
Indeed, when it comes to a Tamarindo surf camp experience, enjoying the wonder-rific view of the ocean has never been this exciting and fulfilling smack right at the hilltop oasis of Tamarindo Vista Villas.
Good Luck and we look forward to seeing you at our beautiful Tamarindo hotel.